Pagonis Live Bait Ltd.
Pagonis Live Bait Ltd. has been serving the North American bait industry for over 30 years. We strive in maintaining quality, availability and consistency within our company and extend those practices to our customers. Together wehave combined efforts with our customers in providing the best live bait.
Our growth and strength within the industry has been bridged with our customer relationships throughout the years.
Pagonis Live Bait Ltd. continues to strive in excellence within the bait industry for many years to come.
Company and Product Information
Pagonis Live Bait Ltd. has incorporated Evergreen Nightcrawlers TM within our company to identify ourselves and our customers within a distinct product.
Evergreen Nightcrawlers TM ensures the highest standards of quality in all of our products and has established itself throughout North America and Europe.
Evergreen Nightcrawlers TM is our standard.
Mission Statement
Our Mission is to provide our customers with quality products, competitive pricing and prompt service that meets their highest expectations.
Media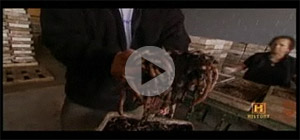 History Channel television show about Pagonis Live Bait's process. Click image above, or here to watch.